THE PROJECT:
Learn to Surf in Jeffreys Bay while helping the local community children achieve a sense of belonging by teaching disadvantaged children.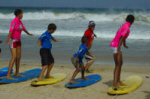 THE SURF SCHOOL:
The local surf school is very professional ensuring absolute professionalism and competency - special boards are used for complete beginners. Depending on surf conditions lessons are run daily with plenty of time for free surfing.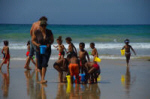 THE COMMUNITY:
This community is located near the beach along the most breathtaking coastline with miles and miles of unspoiled beaches. Other projects that you can be involved with are, working with the children in the pre-school and primary school.
ACCOMMODATION:

Sharing Twin: In this option you book a bed in a twin room. You might share a room with someone from a completely different culture which adds to the whole learning experience.
Double: Room with double bed for couples to share
Dormitory: This consists of 4, 6 and 8 bed dorms.
Single: You have a room all for yourself.
Meals: Breakfast is supplied on a self service basis. Volunteers can supply and prepare their own meals or enjoy meals in the lodge or local restaurants just a hop from the lodge.
THE PROGRAM:
You will be collected at the airport in Port Elizabeth and transferred to Jeffrey's Bay where you will be staying at All Africa J Bay Lodge. You will join the local surf school in Jeffreys Bay to get a idea of what it entails to surf. The project runs during the week, the weekends can be used to explore, relax on the beach or explore all the surf and other shops. Alternate mornings will consist of surf lessons on the main beach with the afternoons at the foster home. The other day will be at the local school with free time in the afternoon for working on your surfing skills. When needed we do maintenance work and upgrades at the schools.
More information on this program visit Surf School Volunteer Project

Enquire about the Surf Volunteers J Bay
Surf Spots - Surf Schools - Surf Packages - Surf Volunteers