Surf Schools Jeffreys Bay South Africa
Surf Spots - Surf Schools - Surf Packages - Surf Volunteers
Learning to surf is easy, safe and whole lot of fun in the sun. Dolphins Surfing the same waves with you is a experience not to be missed. J Bay offers fairly warm waters and well protected surf conditions in a safe environment.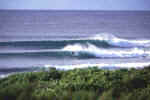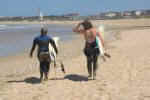 Jeffreys Bay is an obvious choice for surfers, being Africa's surf capital and your ideal all year surf destination. We cater for all surfers from complete novices to pros. We aim to get you to where the swell is best and the crowds least.

Jeffreys Bay Main Beach has the right kind of waves for beginner surfers to learn on. There are no rocks and there are always decent sandbanks close to the shore, which means that beginners never have to venture deep out into the ocean to catch waves. It is rarely so flat in J'Bay that novice surfers cannot catch small foamies (broken waves), which is all you are after when learning how to surf.

During your stay your stay you will visit a surfboard shaper, visit the Jeffreys Bay Surf Museum, buy loads of cheap surf gear at the Surf Factory Shops, Billabong, Quicksilver, Roxy, ect.

The surf school will teach the basics of wave riding and ocean safety. At the surf school you will be given a surfboard and a wetsuit to use and a surf instructor will take you into the water and make your first experience seem effortless.

Special boards are used for complete beginners. Depending on surf conditions lessons are run daily. All equipment provided

A beginner surf lesson lasts for 2 hours. Every morning at 10:00 weather permitting. R250pp

The lesson is broken down as follows:

1) Introduction
2) Stretching exercises.
3) Basic surf theory (including safety instruction).
4) Entering and exiting the water.
5) Judging waves and catching waves.
6) Learning how to stand on a surfboard.

The surf school also offers advanced lessons where you will be paddled out to an intermediate level surf break in Jeffreys Bay to catch "real waves".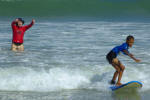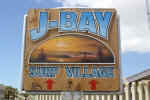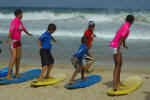 Extra Board and Wetsuit hire available per hour or per day.
Surf Spots - Surf Schools - Surf Packages - Surf Volunteers