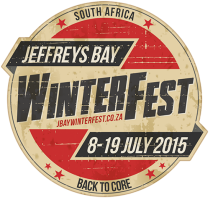 THIS WINTER, FROM 6TH – 17TH JULY 2016, JBAY WINTERFEST WILL RETURN FOR ANOTHER FULL FESTIVAL EXPERIENCE.
2015 saw the JBay Winter Fest establish itself as one of the country's premier sporting and music events, attracting some 45000 festival goers over the 10-day period.
Exhibiting an array of 13 sporting events the JBay Winter Fest attracts a field of national and international competitors to participate in a line up of disciplines open to the public and along with invite only speciality events. Spear-headed by the JBay Open of Surfing, an event drawing over 10 000 spectators for the final day, the town of Jeffreys Bay also hosts a Mountain Bike Open with several distances ranging from an easy 20kms for kids and beginners to a technical 85kms route, a Downhill Sokkie Jol with ramps and obstacles for skateboarders, Oakley's X-Over Championship and a Winter Music Festival featuring the country's leading acts.
The festival is further amplified by a number of associated events including a skins fishing competition, a Funduro, a Cold-Water Swim Classic, a Kite Festival and a multi-distance trail run. www.jbaywinterfest.com
Jeffreys Bay, home to the planet's best right-hand point break, Supertubes, host to South Africa's most prestigious surfing events and wet-dream to every surfer worth their weight in salt. JBay is globally renowned for its world class waves and prominence in the international surfing community.
In 2013 the town of Jeffreys Bay launched the inaugural JBay Winter Fest, an extreme sports festival with a basic principal for all athletes and disciplines – Back to Core.
Back to Core champions the primary motivation in each one of us, the impulse that made us first paddled out into surf, why we kept paddling. It's that initial spark, that infectious enthusiasm that makes us love adventure sport with immaculate joy. Back to Core embodies the belief that our inclination to chase our passion runs deep, and in a bustling world, there's still space to celebrate the things that bring us fundamental exhilaration.
This year sees the festival return with more events, more athletes and the return of the Samsung Galaxy ASP World Championship Tour (WCT) Event.
For ten days over winter, the JBay Winter Fest highlights the culture of Jeffreys Bay with a rush of extreme sports, endurance events and some of South Africa's biggest bands. From 6-17 July 2016 J-Bay will be sensational. Visit Jeffreys Bay Winter Fest page for more info.
For latest news and updates visit Winter Fest on Facebook
"I love surfing at Jeffreys Bay," said Jordy. "I spent so much time surfing there when I was younger, and it always feels good to come back to JBay."

Jordy Smith lays down the law at Supers. Photo: ASP